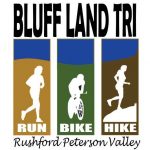 When:
2022-08-20T00:00:00+00:00
2022-08-21T00:00:00+00:00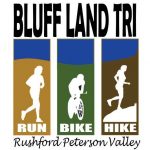 Bluff Land Triathlon is your fall challenge on the beautiful Root River and Magelssen Bluff trails.
New! Chip-timing will be used for all three legs of this Run – Bike – Hike. Register online to participate in just one or all three legs. All segments start and end at Creekside Park in Rushford, Minnesota.
RUN 3.1 miles on the Root River Trail — glimpses of Rush Creek and the Root River on an eastbound out-&-back route…
BIKE 15.5 miles on the Root River Trail — helmets required for this westbound, out-&-back, paved trail ride…
HIKE 2.1 miles on Magelssen Bluff — a 500-foot total ascent and the 290+ wooden steps up the StairClimber Trail…but the gorgeous fall colors and views from the top are worth it!
All event proceeds support the Foundation for R-P Schools ~ Providing scholarships for R-P students to pursue post-secondary education